ACCA Certificate in Digital Innovation for Finance
Understand and welcome the opportunities to digitalise your business
Advances in digital technology are reshaping the world of accountancy and finance. These changes present an opportunity for finance professionals prepared to embrace digital innovation and apply their analytical skills in new ways.
You and your organisation need to understand and embrace these opportunities to digitalise your businesses and remain relevant to customers. Digital affects all areas of business and accountants play a key part in the strategic planning process and achieving organisational success.
Expand your knowledge across a range of technologies and understand how digital can add more value to your organisation.
This certificate will develop your technology skills, with the curriculum aligning closely to the key insight from ACCA's report, The digital accountant – digital skills in a transformed world and will focus on emerging technologies, future disruptors and digital transformation.
In this qualification
Emerging tech
Increase your awareness of emerging technologies
What it means
Define what digitalisation can mean for your role
Disruption
Understand how digital technology is disrupting the finance profession
Digital mindset
Develop a digital mindset to take a considered view and make informed decisions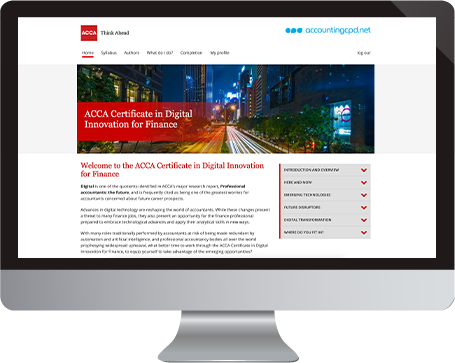 Learning resources
Work through the series of articles, videos, activities, quizzes, discussions, and more, to develop your understanding and skills.
Experts
Find out what digital innovation looks like in the real-world from experts in the areas of big data, digital strategy, data analysis, process improvement, and digital disruption in accounting.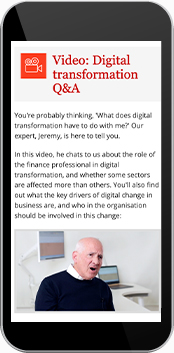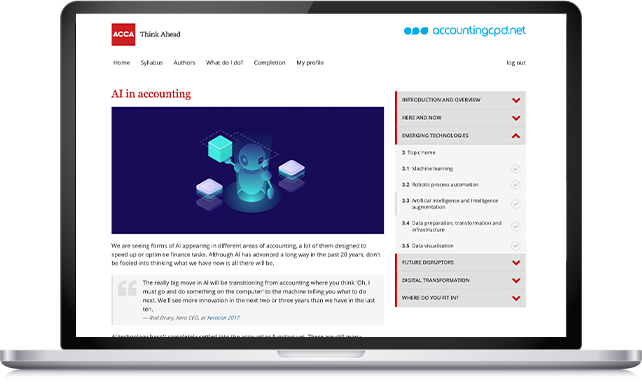 Action plan
Note any changes you wish to make going forwards, in order to apply your new knowledge in your professional role.
Secure certification
Once you've finished the qualification, you will receive a unique and secure certificate as evidence of your new understanding and capabilities.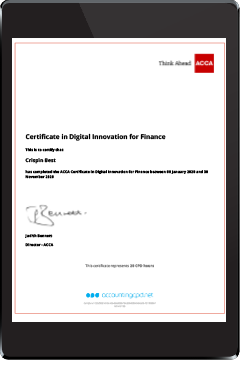 Advances in digital technology are reshaping the world of accountancy and finance. This syllabus looks at the digital innovations happening right now, those that are coming soon, and what may be on the horizon. It also looks at how your organisation can prepare for these changes, and successfully put them into practice.
Rate your confidence across the key areas of the syllabus, to see where to focus your attention. Read some background information about digital innovation and options for modern finance careers, and fill in the first section of your action plan.

Overview

Data is absolutely core to the work we do as accountancy and finance professionals. Find out about big data and some of the different approaches to data analysis that are already available. Take a closer look at data science, and some of the main analytical tools that you can utilise in your role to make the most of the data you have.

Big data
Data analysis
Data science
Analytic tools

The rise of automation, machine learning, artificial intelligence and data visualisation is a double-edged sword for accountants. On the one hand, these technologies will make your job simpler, freeing up time for us to do the work you love. On the other, they will – potentially – make you easier to replace. So, you need to make sure you work alongside these technologies to find new ways to add value to your organisation.

Machine learning
Robotic process automation
Artificial intelligence and intelligence augmentation
Data preparation, transformation and infrastructure
Data visualisation

Blockchain, cryptocurrency and self-serve analytics – despite their risks - do offer potential opportunities to accountants and finance professionals. They also have the potential, one day, to be a major disruptor in almost every industry. It may be a little while until these digital innovations significantly impact your day-to-day role, but it's worth getting a head start.

Blockchain technology
Bitcoin and cryptocurrency
Deep learning
Embedded and self-serve analytics

Technology is continuing to change the face of finance - and you need to keep up. Work through how to start devising a digital transformation strategy. Look at how to proactively lead and manage change yourself, rather than just reacting to it. Start to reflect on how to digitise key processes, products and services where possible, to add value to your organisation.

Digital transformation: The role of finance
Developing a digital transformation strategy
Managing digital change
Digitising internal processes
Digitising products and services

Take a closer look at which of the elements of the digital revolution accountants and finance professionals will find most relevant. Reflect on what the topics covered in this certificate mean for you in the real world, and how you should bring everything you've learned together to approach new technologies in your own business or practice.

Review