Expert Communicator
As an ambitious finance professional, communication is essential in driving your career forward. This pathway looks at the best practice in communication, and how you can work more effectively with colleagues to persuade and influence people.
Communicating clearly and concisely is a core skill for successful accountants. If you can't listen to and understand your colleagues' needs and concerns, and effectively convey your knowledge, messages, and data, you're not going to be adding real value to your organisation. Whether your role involves presenting complex data, collaborating with clients, or building rapport with your colleagues, your communication skills are essential in driving your career forward.
Becoming an expert communicator will raise your profile, improve your professional credibility, and ensure that your advice has a positive impact. This pathway helps you develop the strong communication skills needed to carry out organisational strategies, use best practice to work more effectively with colleagues, and persuade and influence people. You'll employ key concepts to communicate with impact and create a lasting impression in situations and forums that matter.
Covers the crucial skills for "Collaboration", one of the core capabilities underpinning the ACCA qualification and key at all 3 levels of ACCA Career Navigator's Capabilities for Success.
Addresses the communication capability of the "Business" domain in CAANZ's Capability Model.
Develops the key employability skill of communication, listed as fundamental to a successful career by ICAEW.
Explores why 'Communication is the second most wanted skill companies need right now' as discussed in the 2023 Workplace Learning Report.
Looks into why 86% of employees and executives cite the lack of effective communication as the main cause for workplace failures. Workplace communication statistics 2022.
In this pathway
Learning
Supporting your journey to the next stage of your career
Communication
The tools, techniques, and skills you need to provide valuable and clear communication
Flexibility
Learn where you want, when you want
Certificate of Achievement
21 verifiable hours of CPD, an assessment and a Certificate of Achievement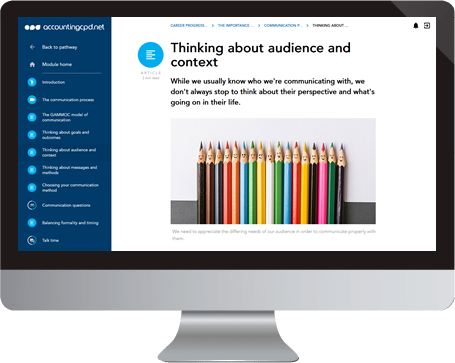 Learning resources
Immerse yourself in the rich variety of articles, videos, activities, quizzes, discussions, and more, to develop your understanding and skills.
Expert interviews
Find out what effective communication looks like in the real-world from our prestigious team of experts in the areas of writing and reporting, presenting, visualising data and influencing others.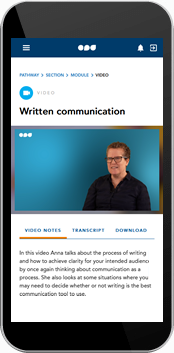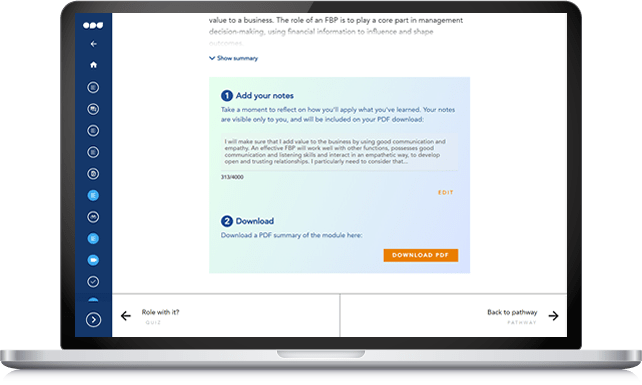 Action plan
Build up a practical plan of how you will put your new skills into action, and download a convenient summary of all the learning to take away.
Assessment
Achieving 75% on the multiple choice assessment is required to complete the career progression pathway. The assessment features two questions on each topic that has been covered.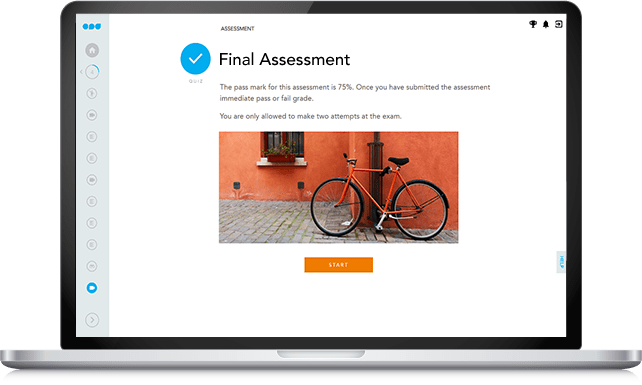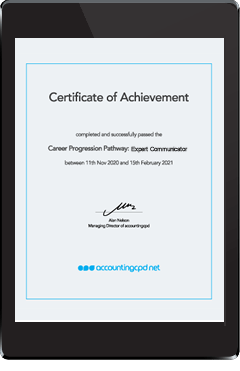 Secure certification
Once you've finished the programme, you will receive a unique and secure Certificate of Achievement as evidence of your new understanding and capabilities.
This Career Progression Pathway is divided into six sections corresponding to the key communication skills and expertise you will need to develop. Complete all six to unlock the end of pathway assessment and access your Certificate of Achievement.
Effectively communicating information to those who need it is the core skill for accountants in business. This section considers the role of communication in business, communication as a process, and some common areas where miscommunication arises.

Professional communication
Communication process
Common mistakes

Presenting information in monthly reports and other analyses is a major part of an accountant's role. This section looks at written communication skills, and how to make sure your reports add value and are worth reading.

Communicating in writing
What to report monthly
Best practice in reporting

If you can speak confidently and clearly then your opinion or advice is much more likely to be listened to, and acted on. Here we explore success factors for in-person communication, and getting your preparation right for meetings and presentations.

Communicating in person
Delivering presentations

Accountants share data and information all the time, and people will be using that to manage the business. This section looks at how you can create impactful data visualisations that highlight your key points and speak to your audience.

Interpreting and visualising data
Dashboards
Supporting decision making

Working effectively with other people is an essential business skill, but building rapport with colleagues is something many accountants find hard. Here we cover some topics that will enable you to successfully collaborate with people in a variety of situations.

Cultural considerations
Building rapport
Social media
Coaching
Managing conflict

If you want to become the go-to person for financial advice on strategic decisions, you must gain the trust and respect of senior management. This final section helps you to get your voice heard, and make sure that your advice is compelling and persuasive.

Your authoritative voice
The art of persuasion
Storytelling
Negotiation

Once you have completed all the elements of the pathway, you can take the assessment to access your Certificate of Achievement.