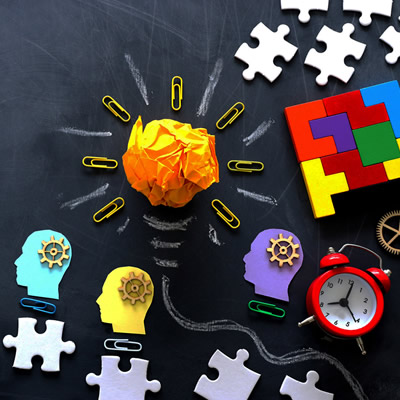 Problem Solving for Accountants
This course will enable you to:
Identify and understand problems
Gather and analyse data to gain further insights into your problem and inform your proposed solutions
Unlock your creative thinking to create innovative and compelling solutions
Decide who to involve in the development of possible solutions
Assess and implement the best solutions for your organisation
As the reporting of historical performance is increasingly automated, accountants can add more value by identifying problems in organisations and proposing solutions. This involves a level of creativity that many find scary, but which we can all develop if we make the effort to do so.
This course will help you get better at identifying and solving problems in your organisation. You'll discover how to establish the root causes of problems and how you can use a variety of problem-solving techniques to develop and implement suitable solutions. The course highlights the importance of data analysis and creative thinking as well as deciding who to involve in the process. It will help you to ensure that you propose solutions that achieve the best outcomes for those affected.
Understanding the problem
The accountant's role
Developing your problem-solving skills
Defining the problem
Assessing the problem
Avoiding the three Ds
Identifying the root cause of the problem
The five whys
The importance of teamwork
Involving people in the problem
Using data analysis
Using the data
The role of data analysis
Gathering different types of data
Understanding big data
Analysing big data
Predictive analysis
Using analytics tools
Visualising data
Using creativity
The role of creativity
Creative characteristics
Encouraging creative thinking
Using creative tools
Brainstorming
Six Thinking Hats
Presenting solutions
Following the creative process
Deciding on a solution
Combining data analysis and creativity
Involving people in the solution
Selecting the right solution
Choosing and selling your solution
Communicating the solution
Change management
Implementing the solution
Embracing doubt

ACCA partner with accountingcpd.net to provide high quality CPD for members. As an ACCA member, you are required to complete at least 40 relevant units of CPD each year, where one unit is equal to one hour. 21 units must be verifiable; the other 19 can be non-verifiable.
Verifiable CPD
Your accountingcpd.net course counts as verifiable CPD, if you can answer "yes" to these questions:
Was the learning activity relevant to your career?
Can you explain how you will apply the learning in the workplace?
You select courses that meet these criteria, and as you complete each course you get a CPD certificate so you can provide ACCA with the evidence that you undertook the learning activity.