ACCA Certificate in Integrated Reporting
All you need to know to implement this radical new approach to annual corporate reporting
Preparing an Integrated Report requires a wide but specific set of skills. It requires cultural change, integrated thinking, communication, and appropriate management systems across the organisation.
The ACCA Certificate in Integrated Reporting includes both the Foundation programme - designed to help you understand the fundamental concepts and the benefits which Integrated Reporting can bring to your organisation - and the more advanced Practitioner programme, which focuses on exactly how to implement Integrated Reporting in your organisation. It outlines what's required to develop a successful Integrated Report and takes you through how to go about it.
If you are part of the team responsible for the preparation of the Integrated Report this programme gives you everything you need to implement successfully.
In this qualification
Requirements
Describe the requirements of the International <IR> Framework
Business case
Present the business case for the introduction of <IR>
Concepts
Apply the fundamental concepts of value creation, the capitals and the value creation.
Preparation
Participate effectively as part of a team preparing an integrated report.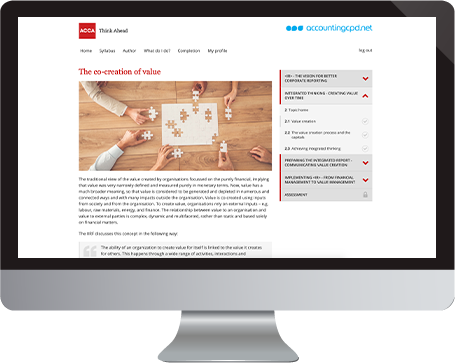 Learning resources
Work through the series of articles, videos, activities, quizzes, discussions, and more, to develop your understanding and skills.
Expert interviews
Find out what integrated reporting looks like in the real world with our in-depth video interviews with experts who have implemented <IR> in their organisations.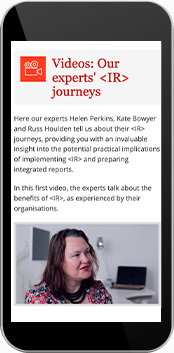 Action plan
Note any changes you wish to make going forwards, in order to apply your new knowledge in your professional role.
Assessment
Once you are ready, you can take the online assessment to demonstrate what you've learned, and complete the qualification.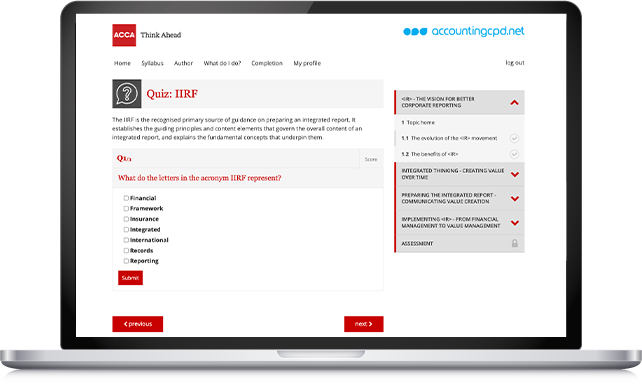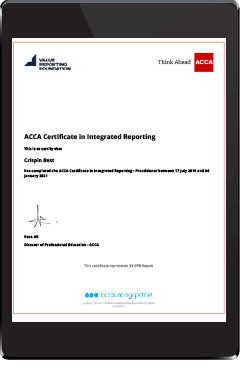 Secure certification
Once you've passed the assessment, you will receive a unique and secure certificate as evidence of your new understanding and capabilities.
The syllabus covers four main topic areas, each of which is presented as a number of sections to help you understand the history, application, and possible future of Integrated Reporting (<IR>).
Before you embark on your <IR> journey, you need a thorough understanding of the overriding vision behind this movement, of the benefits to your organisation, and a few challenges that you might encounter. Look at the drivers behind the development of <IR>, and learn some of the detail of the International Integrated Reporting Framework (IIRF), including its place in the wider statutory, regulatory and voluntary reporting landscape.

The evolution of the <IR> movement
The benefits

Integrated thinking is a fundamental building block of <IR>, not to mention a vital component of value creation. Find out about value creation, and the relationship between value to organisation and value to others. Look at the value creation process, and the six capitals that organisations may choose to adopt. Focus on the role of senior management in achieving integrated thinking within an organisation, and the main barriers.

Value creation
The value creation process and the capitals
Achieving integrated thinking

There are seven guiding principles of <IR>, and various important matters for you to understand related to the implementation of each. Learn about the content elements, and how to focus on the connections between the various content elements. Examine examples of how real-life organisations have created integrated reports, and explore the different forms that an integrated report can take.

The guiding principles
The content elements
The integrated report

Effective project and change management is absolutely vital to successful implementation, and it's important to put in place at the conditions that are most likely to lead to successful implementation. Identify the various people who may be responsible for preparing annual integrated reports, and consider what you might include in your yearly project plan. Identify the various mechanisms used to enhance the credibility of, and trust in, integrated reporting.

Implementing an <IR> management system
Planning the annual preparation process
Credibility, trust and assurance

Once you have completed each section of the syllabus, you must pass an online assessment to receive the ACCA Certificate in Integrated Reporting.

Assessment