Finance Leader
Develop the skills needed to lead the finance function and prepare for future challenges. This pathway provides you with the knowledge and capabilities that will shape you into an effective finance leader for your organisation.
Successful finance leaders combine technical mastery with a range of other skills that enable them to operate effectively and gain their colleagues' respect. By completing this career progression pathway, you will explore these key skills, from developing your understanding of the business, through effective management and leadership, communication, emotional intelligence and resilience, to the importance of establishing your own professional credibility.
It is never too early to plan your route to CFO or partner, or to begin to work on the skills you will need to make that journey.
Provides a foundation in the future skillset of the CFO as identified by ACCA and IMA in "The CFO of the Future"
Introduces the key skills and capabilities identified in the CA ANZ "CFO Recruitment Guide"
Explores CGMA's three key CFO skills: Leadership, Communication and People Management
In this pathway
Learning
Supporting your journey to the next stage of your career
Leadership
The tools, techniques, and skills you need to provide valuable finance leadership and insights
Flexibility
Learn where you want, when you want
Certificate of Achievement
21 verifiable hours of CPD, an assessment and a Certificate of Achievement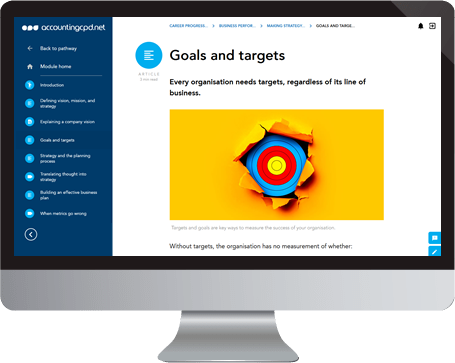 Learning resources
Immerse yourself in the rich variety of articles, videos, activities, quizzes, discussions, and more, to develop your understanding and skills.
Expert interviews
Find out what real finance leadership looks like in the real-world from our prestigious team of experts in the areas of future finance, professional credibility, business performance, reporting to stakeholders, and digital innovation.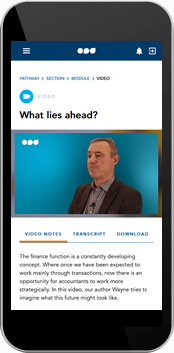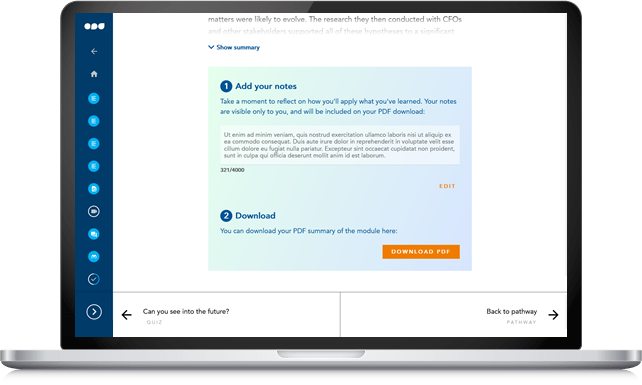 Action plan
Build up a practical plan of how you will put your new skills into action, and download a convenient summary of all the learning to take away.
Assessment
Achieving 75% on the multiple choice assessment is required to complete the career progression pathway. The assessment features two questions on each topic that has been covered.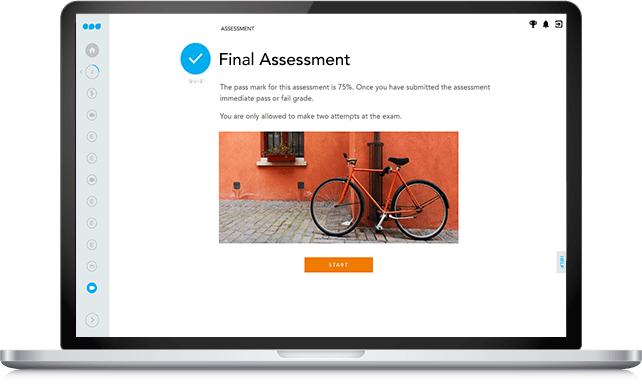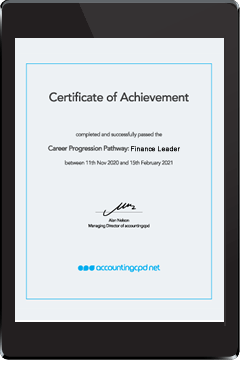 Secure certification
Once you've finished the programme, you will receive a unique and secure Certificate of Achievement as evidence of your new understanding and capabilities.
This Career Progression Pathway is divided into six sections corresponding to the key finance leadership skills you will need to develop. Complete all six to unlock the end of pathway assessment and access your Certificate of Achievement.
What will it take to be a financial leader in tomorrow's world? This first section will help you start to plan for the upcoming challenges, by focusing on the skills, practices and outlooks that are likely to be needed in the finance function moving forwards.

Future finance leaders
Finance function of tomorrow

To become a credible and trusted leader, you must demonstrate that you can go beyond the accounting perspective, and think in more holistic business management terms. This section considers the key role a questioning mind plays and how to align your work with wider organisational objectives.

Professionalism and ethics
Authority and scepticism
Business insight

In difficult times, finance teams play a critical role in the survival and success of organisations, and effective and flexible leadership is increasingly important. This section explores how you can develop a resilient, creative team of finance professionals, who will support and shape the organisation's future.

Managing and coaching finance people
Leading the finance function
Communication skills
Emotional intelligence and resilience
Creativity

Monitoring and measuring business performance should be an ongoing process, where strategy is set, tactics are developed and critical success factors identified and reported on. This section looks at some of the key factors involved in driving success and improvement as a finance leader.

Making strategy work in the real world
Flexible business planning
Creating killer KPIs
Monthly reports people want to read
Finance data analysis

Financial reporting has always been a major aspect of the role of the finance leader. But communicating with an organisation's various stakeholder groups now involves an increasing focus on some key non-financial factors (ESG issues). This section will help you to future proof your reporting skills.

Risk and resilience
Reporting on an uncertain future
Non-financial reporting

This section looks ahead to some technological changes that future finance leaders should be planning for now. Most businesses are facing both opportunities and threats in this fast-paced area, and you can be proactive in managing organisational awareness of the risks and the rewards.

Digital transformation in the finance function
Emerging and future disruptors

Once you have completed all the elements of the pathway, you can take the assessment to access your Certificate of Achievement.