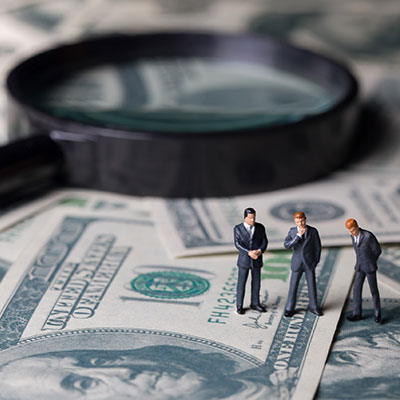 Forensic Accounting
This course will enable you to:
Understand the role of the forensic accountant
Identify misconduct including money laundering
Gain an understanding of how to prevent fraud
Plan and conduct fraud investigations
Develop an understanding of non-fraud work such as valuations and asset tracing
Understand the role of the forensic accountant as an expert witness
The role of the forensic accountant will seem familiar to finance professionals, but it demands skills way beyond technical finance skills. Forensic accountants' day to day work involves fraud investigations, damages assessments, valuations of businesses or curious entities and frequently involves legal proceedings. The forensic accountant could spend a week as the expert witness in a matrimonial dispute involving millions of pounds of marital assets, before spending the next valuing a football club.
This course allows you to work through activities, share your learning with peers, and get the knowledge and skills that will enable you to operate in the world of the forensic accountant. You'll be able to identify misconduct and fraud as well as understand how to conduct fraud investigations and non-fraud work.
Introduction
Forensic accounting
The psychology of fraud
The fraud triangle
Has a crime been committed?
Money laundering, bribery and corruption
Corporate fraud
Detecting fraud
Preventing fraud
Fraud investigations
General principles
Fraud response team
The purpose of fraud investigation
Possible problems
Investigating management fraud
Analytical review
Investigating employee fraud
IT investigation approaches
When are IT approaches useful?
Non-fraud work
Valuation of unlisted entities
Types of valuation
Asset tracing in divorce cases
Asset tracing and fraud
The expert
Consequential losses
Calculating consequential losses
Liquidated damages
The expert witness
Giving evidence in a civil case
Giving evidence in a criminal case
Preparing the final report

ACCA partner with accountingcpd.net to provide high quality CPD for members. As an ACCA member, you are required to complete at least 40 relevant units of CPD each year, where one unit is equal to one hour. 21 units must be verifiable; the other 19 can be non-verifiable.
Verifiable CPD
Your accountingcpd.net course counts as verifiable CPD, if you can answer "yes" to these questions:
Was the learning activity relevant to your career?
Can you explain how you will apply the learning in the workplace?
You select courses that meet these criteria, and as you complete each course you get a CPD certificate so you can provide ACCA with the evidence that you undertook the learning activity.